Name:
Sadie 
Gender:
Female 
Age:
3  
Breed:
Arctic Wolf  
Height:
67 cm 
Pack:
Erenyx  
Rank Requested:
Hunter  
Appearance:
  Sadie's pelt is mostly white but has small hints of grey all over, it also takes on a brownish hue in the warmer seasons. She has a dark grey dot where her supraorbital whiskers are located above the inside corner over each eye, her forehead and back are flecked in the same grey. Her eyes are a dark chocolate brown and always full of light. She's definitely not a large wolf, but her small size is not a weakness too her. Her body is nearly pure muscle, and it looks as if it was made for running. She uses speed to her advantage and never misses a chance to stretch her legs. Sadie's fur is thick, long, and requires a lot of grooming to keep it looking clean. She tends to forget this at times, which is why at any time there could be hidden sticks or dirt clods covering the wreckage that is her pelt. 
Personality:
  Sadie is often too nice for her own good. She always tries to make everyone happy no matter how impossible it seems. Insults don't seem to effect her, it's almost like they don't register in her mind. The most you could get out of her with one would be a small flick of the ear. She tends to be shy around other wolves when she first meets them, but quickly comes out of that shell as rather rambunctious. She always has a joyful aura about her, as she knows that her mood can help those around her. She is always up to a challenge, no matter how hard it may be to achieve. These challenges include fighting, though it may be hard to anger her into fighting, simply asking her or drawing blood will do the trick. And though she would rather hunt prey than fight a battle, she is extremely loyal and would fight beside her friends at a moments notice. 
Photo: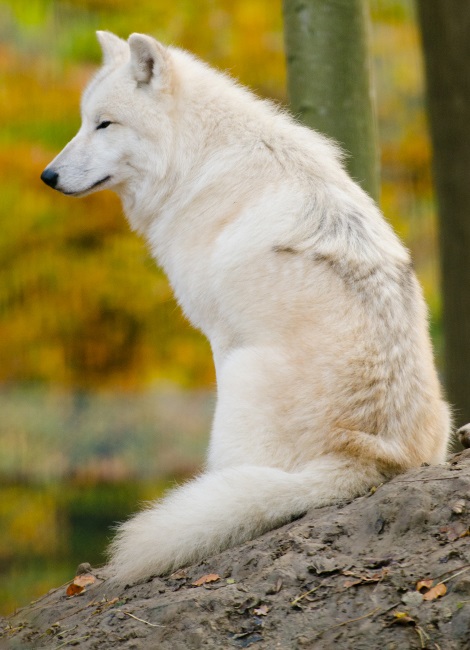 History:
  It wasn't the best family, but it was a good family. It was rather a rather dreary day, the sky was all the same color of grey, rain drizzled from the sky, and the sun was doing its best to hide behind the clouds. It was even quite warm, that is, before the rain soaked its way through your pelt. Despite these conditions, a certain pack was rejoicing. They had been here for only a month and were now celebrating their first litter of pups. Everyone had been waiting for this day since the couple joined the pack, new pups were a sign of strength and they would definitely be of help to their low numbers. Every wolf in the pack -the whole ten of them- stared as the female and her mate made their way to the healers den. Everyone crowded at the entrance and waited for the news. Two hours later they got it. Two pups had made it, the other one was still. The mother, Ember, named all three. The male's name was Yoli, the surviving female's name would be Sadie, and the stillborn, also a female, would receive the name of Jewel. The two surviving pups were given their assignments in the pack right then. Yoli, was the largest and was given the task of a Warrior. While Sadie, was much smaller. She was given the task of Hunter. These ranks were what they would train for the first year and a half of their lives to be, but for now their only task would be to grow.
The pups were now six months old, and it was time to begin their training. For the first times in their lives, Yoli and Sadie would be separate now, only seeing each other at a distance. They were to not speak to one another until their days of training were over. Yoli and Sadie were both exceeding expectations in their training, in a years time they had learned nearly all they needed to know, and had gained quite the reputation. Yoli was known now by his narcissistic ways and pride, as well as by his skill when it came to sparring. Sadie was known for her speed and kindness. As the last days of their training grew near, it began to be a competition of who could impress the alphas more. Even though they weren't allowed to speak to each other, it had been becoming more and more apparent. Finally, their mentors got involved in it as well, they would shoot each other nasty looks across the training ground while they encouraged their student. At one point they even got into a fight over which one was better. It didn't really matter that much to Sadie, it was all in good fun to her. Her brother didn't see it in the same way, to him it was disgusting that he would even be compared to Sadie. He saw her as weak, a fool. Sharing the spotlight wasn't his thing, and having to do so brought about anger in him. So, on the last day of their training, he asked her mentor if they could spar. Her mentor allowed it, having no idea of what Yoli planned to do.
The spar started out alright, it was all very formal. They had asked the alpha's permission and reserved the training grounds for themselves that day. The entire pack was excused from their duties to watch them spar before their ceremony. Now thirty strong, the pack formed a ring around the two, if either of them crossed through the ring it would be considered a forfeit and the other would win. They stood across from each other, Sadie smiled at her brother, expecting a pleasant fight. Yolli smiled back, but his smile didn't have the same meaning in it. The alpha howled, signalling the fight to begin. Yolli made the first move, swing his paw full force towards Sadie's head, it connected and Sadie fell, shocked as blood began to roll down her cheek. Yolli tried to hold her shoulders to pin her down, but Sadie rolled back to her feet. You weren't supposed to hit that hard in a spar, she knew that, and Yolli did too. As she saw the look in his eyes as he lunged at her again she knew that this wasn't just a friendly sparring match, this was a fight for her life. She quickly darted out of the way from his attack, she couldn't risk being knocked over again. Yolli was persistent as the fight went on, Sadie just kept dodging. It was obvious that he was trying to get to her throat now, and she couldn't figure out why the alpha wasn't calling it off. As Sadie was becoming lost in thoughts she was suddenly awoken by a sharp pain in her shoulder, Yolli was attached. She out a yipe and bit down hard on his ear, she shook her head ferociously from side to side, tearing through the delicate flesh until she had torn completely through. Her brother let out a strong of yelps through the process and she never noticed that he had let go of her shoulder and was now scrambling away, she spat out his ear in the dirt. Yolli looked at her fearfully for a moment he had not expected this to be so hard, but soon his fear and pain turned into anger once more and he charged her for the last time. Sadie at this time had become fed up with her brother's antics, and as he charged her, she fully exposed her neck, pretending to be distracted by something in the distance, causing her brother to instinctively aim higher. As he was almost upon her, she dropped to to a crouch, opening her jaws as her brother ran directly into them. She began ripping and tearing at his neck, not stopping until he went limp, when the only thing keeping his head from the ground were her jaws. The crowd was silent, and as she stood there and looked at the body of her brother, she felt nothing but wrongness. What she had done was wrong, she couldn't stay there. The crowd parted as she walked away from the camp, no one got in her way, no one stopped her as she went to find a life somewhere new. 
Joining Keys:
The joining keys are present and eaten by a hungry wolf - Alphess Rose 
How did you find Age?
Guardian Tundra convinced me to join. (100 Bones has been given to Tundra) - Elder Azul 
Example Post:
  The sun was just beginning to rise above the horizon. Early morning dew was still settled upon the leaves in the forest, and the birds were beginning their song when, like the sun, the female rose from her makeshift nest. Well, maybe not like the sun. The female was much less bright than the sunrise this morning, in fact she was feeling about as bright as a black hole at the moment. She stretched out her tired legs and flopped back onto the ground, covering her eyes with her paws. "Why
do
I have to get up?" she asked herself, just as she did every morning. "No reason." she responded, at which point she sat up and began pulling twigs and other various things out of her pelt that had collected there in yesterday's journey. She knew perfectly well why she had to get up, it was to find a reason to get up. It was all in the hope that one day she would have an answer to her morning question. She sighed and began digging under her nest, it was where she normally buried her food so nothing stole it when she slept. It took her a couple moments to remember that her hunt had been unsuccessful the day before, and her stomach growled as it too remembered it's hunger. She would have to catch something today if she wanted to stay strong enough to continue her journey into more of the unknown. She walked a few paces from where she had spent the night and scented the air. There was a faint trace of fox, nothing to get too hopeful about, and vixen. She doubted that she could kill one, but the scent was too strong to ignore so she began to follow it anyway. She eventually came to tracks. There was something off about them though, the steps were uneven and it appeared that the deer had been limping. Was it injured? Old? Sadie didn't care. She began to move faster and faster until the got a small glimpse of the creature she had been tracking. She immediately dropped into a crouch, slinking closer until she was in range to leap for the animal. Standing nearly in the exact center of a clearing, was a doe. It was, at that moment, the most beautiful thing that Sadie had ever seen. It looked bony and stiff, most likely from old age as the land around here seemed to be plentiful with plants and grains. It was so out in the open, everywhere that she needed to get to so exposed, that she couldn't pass up the opportunity. She launched herself at the animal, quickly taking out one on its back legs. With only two left to stand on the doe collapsed. At this point it was over, Sadie seized the animal's neck and ended it's suffering quickly. She would eat well tonight.
Site Season/Year:
5th Winter